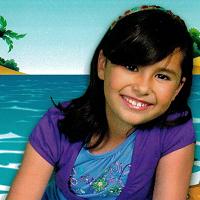 Jazmin Monet Rosario
Jazy (Jazmin Monet Rosario) is the daughter of Mike and Laura Rosario, the Directors, Producers and Owners of Forgiven and Sonic Rush Records. She also has an older sister, Michelle, who wrote some of the songs on her new CD.
Many of Jazy's loves include eating all kinds of things including tofu and pancakes and quesadillas, singing in the shower, irritating her sister and playing all kinds of sports.
Jazy is a very happy girl who likes to sing wherever she goes. She is happy that kids can learn about God through music and she is also thankful that she has the talent to sing about God and share His love with other kids.