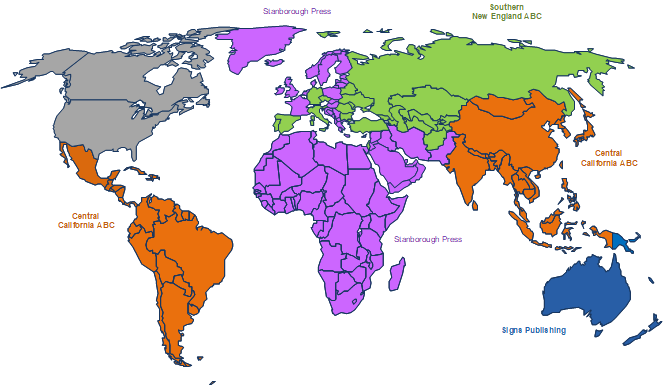 Store Locator
To find the contact information for the store that serves your area use our Store Locator.
International Users
The Service is controlled, operated and administered by AdventistBookCenter.com from our offices within the USA. If you access the Service from a location outside the USA, you are responsible for compliance with all local laws. You agree that you will not use the AdventistBookCenter.com Content accessed through AdventistBookCenter.com in any country or in any manner prohibited by any applicable laws, restrictions or regulations.
Shipping outside the United States and Canada
AdventistBookCenter.com and its participating bookstores will do everything possible to give you excellent customer service, but if you live outside the United States orCanada, there are some factors which can affect the cost and delivery time of your order. It's important that you give us a valid, permanent e-mail address, so that we can contact you to confirm your wishes and any variations in cost before your order is charged to your credit card or shipped.
In some cases, your price on an item may be higher than that shown on the web site, because of customs duties and import costs.


If your order is filled by an Adventist Book Center doing business in currency other than US dollars, your price will be based on the current exchange rate when the order is shipped.


All orders are subject to local taxes.* Orders between countries will be shipped the most economical way, unless you request expedited or trackable shipping.


Some participating Adventist Book Centers outside North America operate on shortened hours which could affect your delivery time. However, everything will be done to give web site orders priority and fill them as quickly as possible.


Product availability is subject to stock available in the country where the order is filled. When stock is not available locally, your participating Adventist Book Center will be happy to order for you directly from the publishers. Such orders may take added time due to importing and shipping delays, and will be subject to shipping charges from the publishers in the United States, as well as duty and import costs, where applicable.


Rest assured, you will be contacted by e-mail (as long as you have given us a valid e-mail address) to confirm availability, cost, exchange rate, and shipping charges before your order is shipped.
For shoppers in the South Pacific
The site will not ask you for payment information at the time you place your order. Instead, when we have calculated an exact price for you, you will be contacted for payment information.